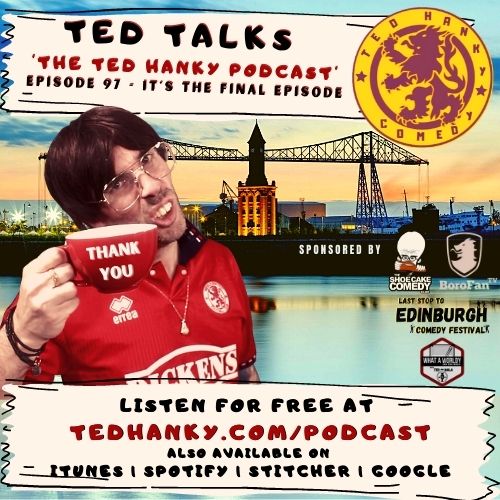 It's a sad day as the podcast finally comes to an end after 10 series and 97 episodes, WOW!! 
Ted and Mala emotionally reflect on their time recording the show ... but still find time to discuss the upcoming Olympics and some of its rather suspect sporting events. 
Listen until the end as a lot of the shows characters who have featured at some point in the 97 episodes bid a fond farewell. 
Thank you to everyone who has listened, shared, and contributed to the show. LOVE YOU LOADS!!
There will be 3 BONUS episodes released over the coming weeks exclusively for Patrons Supporters. 
You can sign up to the TED HANKY PATRON SCHEME ..... it's full of fantastic offers, free gifts, and exclusive content.
Click this link for more info: https://www.patreon.com/tedhankycomedy
NB: If every listener donated £3 a month Ted would be able to keep up his monthly subscription to 'Bush Babes' and still have £6 profit for sweets and Panini stickers.... please...  help a marra out.
Created, written and performed by Ted Hanky
Special thanks to Ade Mulgrew for additional writing & performance 
A Shoe Cake Comedy production
Sponsored by The Last Stop To Edinburgh Comedy Festival   What a Worldy & Boro Fan TV 
CHECKOUT MY WEBSITE & SHOP : https://www.tedhanky.com/
N:B - This is a parody show. Guests are often not real, subjects are often not real, please don't think this is real ... don't be a Doyle.
Characters have been exaggerated and stereotypes enhanced purely for comedic effect - we bear no malice or ill feeling towards any real person/people or even the stereotypes we portray. Sincere apologies if any offence is caused ... it is meant to be delivered in parody and hopefully funny. 
The show, as always, contains a fair amount of bad language, adult references, occasional references only Teesside locals will relate to .... and loads of "you know warra mean's"
(not for the easily offended, snowflakes, ... or bairns ... so please don't listen if this is you)
#makeborogreatagain
Music
'Silly Intro' & 'Greenlands' by Alexander Nakarada | https://www.serpentsoundstudios.com
Music promoted by https://www.free-stock-music.com
Attribution-NoDerivs 3.0 Unported (CC BY-ND 3.0)
https://creativecommons.org/licenses/by-nd/3.0/
Attribution 4.0 International (CC BY 4.0)
https://creativecommons.org/licenses/by/4.0/
Creative Commons Attribution-ShareAlike 3.0 Unported
https://creativecommons.org/licenses/by-sa/3.0/deed.en_US
https://creativecommons.org/licenses/by-sa/4.0/
Ted Hanky Comedy does not own the rights to any music played on the show and does not use any artist songs for commercial gain. 
Play Now